PUSH Industries ElevenSix Custom Shock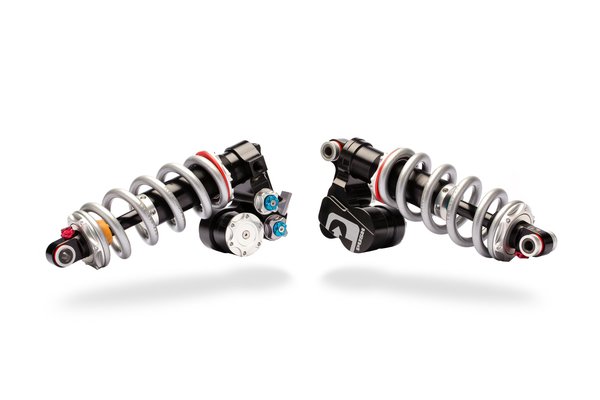 PUSH Industries ElevenSix Custom Shock
PUSH Industries :: Eleven Six Shock
Dual OverHead Valve Technology
PUSH certainly didn't invent on-the-fly suspension adjustability....They just perfected it.

With PUSH's Dual Valve System you can toggle seamlessly between two completely independent and more importantly, rider defined compression settings. Each valve features independent Low Speed and High Speed Compression adjustment. Easily dial-in your Climbing Valve for that perfect traction and control you want when climbing and then dial-in your Descend Valve for small bump suppleness and ultimate control in bigger hits. With a flip of the paddle you get to select the ideal performance for any trail condition.
FINALLY, the performance you've always wanted from your suspension!
No longer is the manufacturer deciding how firm or soft your ride settings are with "pre-determined" settings. The control is in your hands along with our individualized settings card included with each ELEVENSIX and access to our technicians for guidance in achieving the perfect settings for you.
Leverage rate? Anti-Squat? Eye-to-Eye?
Trying to fit a new shock to your bike can be exhausting! What does it all mean? Am I getting the right tune?
These are questions you're never going to have to ask when purchasing an ELEVENSIX. PUSH Industries has a team of riders, engineers, and machinists working behind the scenes to ensure you get the perfect fit the first time without the headache of research. With every new ELEVENSIX fit, we start off by acquiring the actual bike. We then evaluate it's stock ride performance, measure linkage, shock, and mounting specifications before moving onto building prototypes. These prototypes are ridden, re-tuned, and evaluated all while documenting the exact recipe required to give you the perfect product.
FEATURES
Exclusive Micro-XD Coatings
Found on our shock bodies, shafts, and reservoirs, Micro-XD coatings provide a durable and slippery surface leading to decreased wear, better traction and better small bump sensitivity.
At the heart of every ELEVENSIX is a high flow, custom tuned damping piston. Our multi-stage, large port design creates cornering stability while providing seamless sensitivity to even the smallest bumps. As the trail gets rougher, damping forces are automatically regulated to absorb large impacts and braking bumps effortlessly.
Fully Sealed Mounting Kits
Lightweight, durable, and fully sealed mounting axles mean you get to ride harder and longer without maintenance.

- Custom tuned for your bike, rider weight, and riding style
- Silver or Black
- Handmade & assembled every damn time