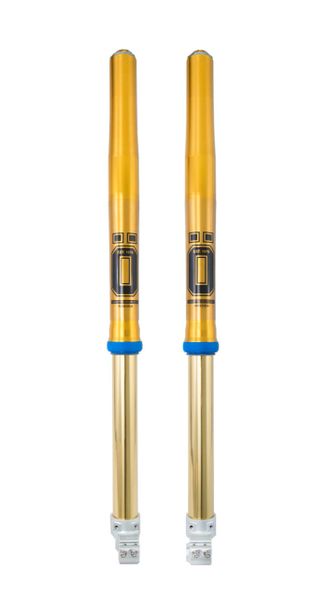 Ohlins RXF 48s Forks
Introducing the latest Öhlins motocross front fork, the RXF 48S.  For 2020, they have made updates both internally in the damping system, as well as externally in the lower fork legs.
The majority of track performance developments come from internal changes in the cartridge kit. Ohlins set a development aim for 2020 which they were able to reach by redesigning crucial internal valve parts as well as modifying the shim stack layout. With these changes combined, the rider experiences a fork which has improved stability, rigidity, defined position, front wheel feedback, settled movement and the ability to handle bigger impacts. Of course, with the trademark traction from Ohlins and no harshness characteristics untouched.

The 2020 fork features golden Ti-Nitrate surface treatments on the lower fork legs for improved durability, scratch resistance and decreased friction, even under load. Also changed is the guide sleeve color from black to blue for a more unified visual appearance. 
Features
Improved dynamic performance for 2020 year model

New gold colored Ti-Nitrate surface treatment
Cartridge kit with TTX design
Gas pressurized damping system for response
External compression adjuster, angled for easy of reach
External rebound adjuster
Hydraulic stops for great bottom-out resistance
Top-out springs and rubbers for smooth top out feeling
Strong fork bottom material, highly resistant to hitting stones
Gold and blue color scheme

Starting at $3,050.00