NTR-R3-Race Pro available with optional hydraulic preload adjuster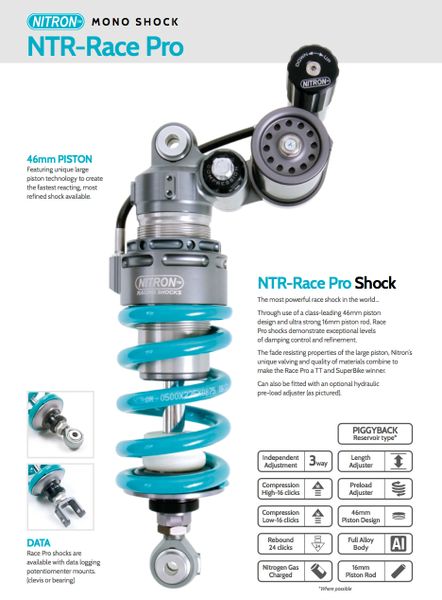 NTR-R3-Race Pro available with optional hydraulic preload adjuster
NTR-R3-Race Pro available with optional hydraulic preload adjuster  - starting at $1400
Unrivaled performance and flexibility from multiple Superbike Championship winning design and technology.
3-Way independent damping adjustment. By incorporating our class leading 46mm piston and ultra-strong 16mm piston rod, the NTR Race Pro shock demonstrates outstanding levels of performance, damping control and adjustment. Piggyback, piston or remote reservoir allows quick and simple independent adjustment of rebound and fast and slow compression damping. The fade resistance properties of the large piston and use of highest grade materials ensure that the Race Pro is a proven TT and Superbike winner.
46mm PISTON - Featuring unique large piston technology to create the fasted reacting, most refined shock available.
Optional Hydraulic preload adjuster (HPA) available for +$275
Blue or Titanium Black spring